Pictou County Geography and Maps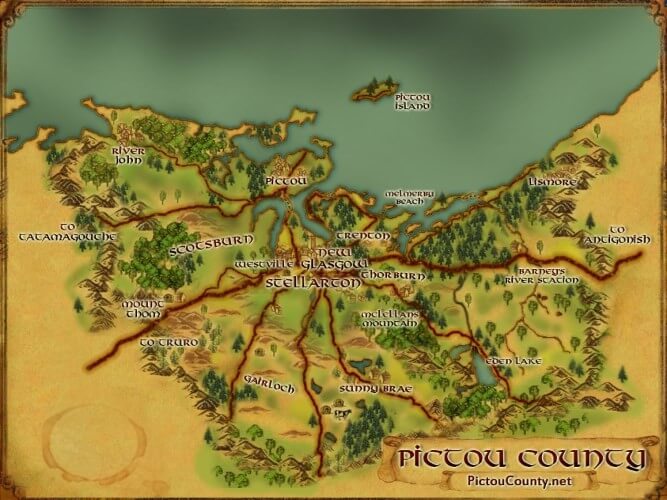 Pictou County, located in the north central part of Nova Scotia (approximately between
latitudes 45° 15′ & 45° 50′ N and longitudes 62° 05′ a& 63° 10′ W), covers an area of about 2,845 square kilometers, and has a population of just over 43,700 (about half in urban and half in rural areas). It is bounded by Antigonish County to the east, Colchester County to the West, and Guysborough County to the south.
Pictou County has a rich Maritime History, and contain close to 200 km of shorelines. Settlers began arriving in this area around the late 1700s by English immigrants from Maryland and Pennsylvania, and from Scottish immigrants via the ship Hector. Coal was discovered at Albion Mines (later became known as the Town of Stellarton) around 1978, and became the dominant industry for about the next 125 years, bringing an influx of immigrants from Europe to the area. During the early 1900s the axis of commerce and industry moved away from Atlantic Canada inland towards Quebec and Ontario.
Pictou County .net highlights the vast Geography of Pictou County, its Towns and Communities, and to share sources of maps and geographic information.
Our resources continues to grow over time, and if anyone knows of some information that we should include in our collection then we would love to hear about it.